Brief History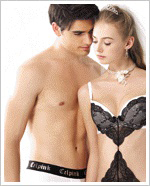 2001년 이후 연혁

| | | |
| --- | --- | --- |
| 2006 | Mar | selected by korea management association as no.1 in brand influence among the men's underwear companies |
| 2003 | May | selected by korea management association as no.1 in the image enhancement of korea industry among the underwear |
| 2001 | Apr | "The 10th Prize for the Enterprise of Economical Justice" by the enterprise Assessment commission. |
1991년도부터 2000년대 연혁
2000
Dec
"The New Model Enterprise of the New Milleninum for Creation of VlaulAdded" awarded by the Joong~ang Daily and the Korean Chamber of Commerce and Industry.
Mar
The Citaion of the President awarded on the 34th Day of Taxpayers.
1999
Feb
The Prize for Export of Original Brands awarded as recommended by the Korean Assoiatioon of Textile Industries.
1998
Nov
The citation f the Prime Minister awarded on the Day of Textile as recommended by the Korean Association of Textile Industries.
1997
Nov
Selected as the official commercializer of underwear for 1988 France Worldcup.
Jul
'BYC' selected as the most preferred brand for underwear by the Federation of Korean Women Economists..
1996
Mar.15
Changed the company name to BYC Co., Ltd.
1995
Apr
Estabished BYC Kniware Co., Ltd. in Shanghai, China.
1993
May
Selected as representaive enterprise of Korea for successful stategies on globalization of Korean brands by Korean Traders Association.
1992
Jun.10
Selected as the Best Korean Enterprise of 1992 by Korean Management Association.
1991
Jul.22
The Korean Textile Grand Prix for export of BYC original brand.
1981년도부터 1990년대 연혁
1990
Jun.20
Gold Prize for the Best Listed Firm awarded by Daesin Economy Research Institute.
1987
Nov.30
The Medal for Export of 50 Milion Dollars awarded on th Day of Export.
Apr.01
Cmpleted the hosiery plant in Jeonju, Jeonbuk
1986
Apr.01
Completed the lingerie plant in Guro industrial Complex, Seoul.
1985
Jun.01
Completed the Kniting mill in Iksan, Jeonbuk.
1979
Feb.27
Changed the company to Baik Yang Co., Ltd.
1957
Aug.05
Registered Baik Yang trademark.
1946
Aug.15
Founded Hanheung Knitting Mill.